How To Make A Room Look Bigger With Paint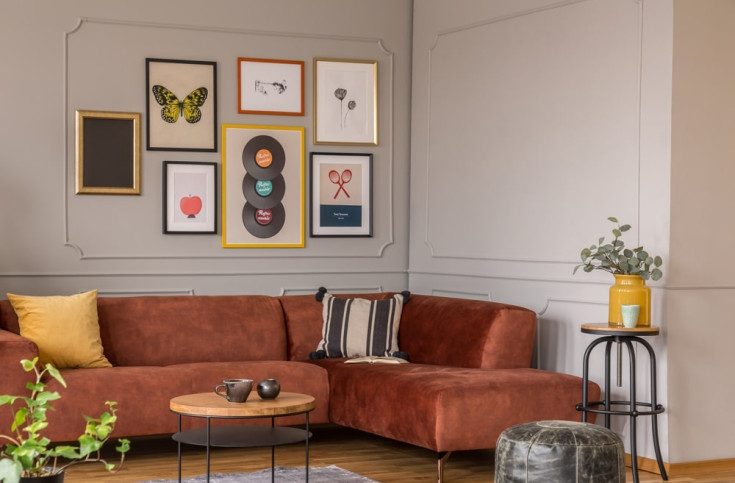 Are you wondering how to make the most of a smaller room in your home? Does your space feel dark and claustrophobic? Here's your chance to change perceptions through redecoration.
In this article, you'll discover how to use paint to create the illusion of a lighter, airier and more expansive space!
Here are our top five tips to help your room look bigger using paint.
Saturate The Space With One Colour
Whenever a new colour is used in a room, a boundary is created and the eye automatically stops; this can make the space feel small. To counter this, choosing one shade and using it across an entire room can help to create continuity within the space, making it appear larger than it is.
Give your room a never-ending sense of flow by choosing just one colour for the walls, skirting boards, doors, and even the ceiling if you're feeling bold! Of course, you'll need to use the correct finish to suit different surfaces - check out our blog for some advice.
If using just one colour feels like too much, you could also consider using a palette of closely related shades
2. Split The Walls Using Dual Tones
If 'colour drenching' your room in one shade is a stretch too far for you, consider using two tones on the walls instead. Create a taller impression by painting one colour (perhaps a bold shade) around the lower third of your walls, matched with a suitable off-white on the upper two thirds and on the ceiling.
To achieve this, simply use a spirit level and a good quality masking tape to create a crisp line - or get in touch with us if you'd rather leave it to the professionals! This technique can be particularly effective to lengthen a hallway or corridor.
3. Keep It Pale, But Not Always White!
In a small space, making the most of natural light with paint that reflects it can help to make the room feel airy and spacious. While you might think that a traditional white would be the best choice for this, pale and natural tones can also do a great job of reflecting light and brightening a room.
Soft, pale greens and blues are examples of receding colours: colours that appear further away, thus making a room feel more spacious. On the other hand, warmer, deeper shades are advancing, making the space feel smaller.
Lighter natural tones also help to bring a sense of the outdoors inside, helping to foster that connection with the spacious world outside the window. Our friends at Graphenstone have a great collection of natural shades, made sustainably with mineral-rich pigments.
4. Experiment With Sheen
Another way of optimising natural light in a small room is to choose a more reflective paint with a higher level of sheen. The slight gloss of the paint will help to scatter light around the room, making it appear bigger.
If you don't want a sheen finish on the walls, then consider glossier paint for any woodwork or furniture that catches the natural light instead. The use of high sheen paints also has a practical benefit; they tend to be washable and wipeable, and therefore perfect for high-traffic areas like kitchens and bathrooms!
Check out COAT's collection of soft sheen paints to get started.
5. The Final Touches
This tip isn't necessarily just about paint, but it's important to add those final touches to your room to optimise natural light and make the space seem larger.
When choosing furniture for a smaller room, avoid heavy, clunky pieces as these take up a lot of valuable space. Sofas and tables should be kept low to the ground, helping to heighten your room, and it's a good idea to select pieces that allow air and light to flow around them (for example, select a sofa standing on legs rather than one that meets the floor directly).
Paint any storage units and shelves the same colour as the walls, to help give your space continuity and flow. Keep clutter to a minimum to enhance the amount of physical space in your room!
We hope this article helps you to get the most out of your space - happy decorating!