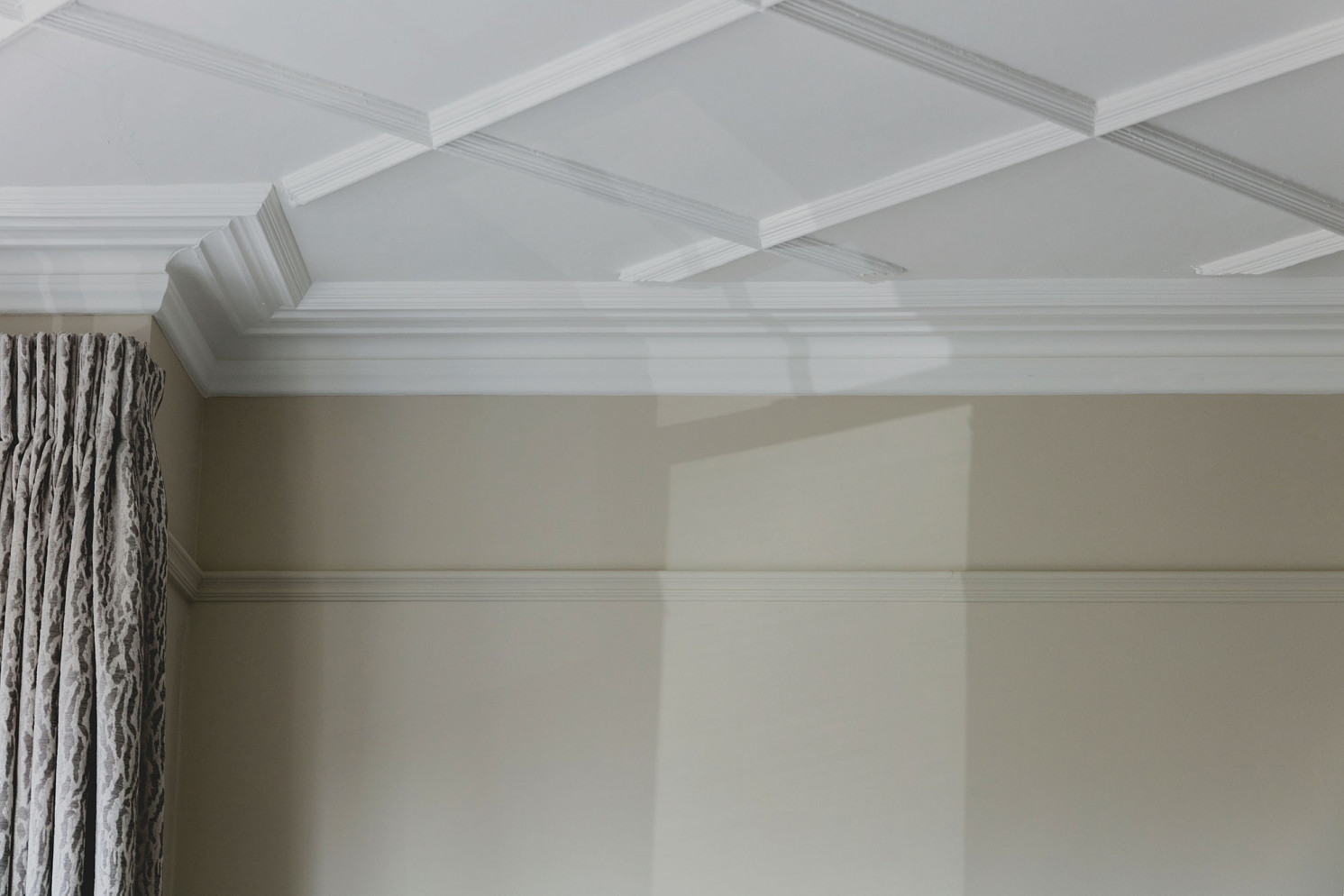 What paint finish do I need?
'What exactly do you mean by paint finishes?' is a question I often get asked by clients after we've decided on the colour palette for their home, and I introduce the notion of 'finish'. If picking colours can sometimes seem like going down a rabbit hole with a million and one possibilities to choose from, then comes the next 'challenge' of what paint finish to go for.
Finishes are very important but selecting the right one is much less complicated than you'd expect. The beauty is that most paint brands have a variety of finishes that can serve you and help you make the best use of a space.
As a starting point at a most basic level, when thinking about finishes for each room ask yourself the following questions and you'll find these simple answers to guide you:
1. Firstly, what surface am I painting?
Generally, walls and ceilings are painted in emulsion (and that can be matt or wipeable), and woodwork in eggshell or gloss. The recommended finish for wood surfaces for its durability, eggshell would be a standard choice for a low sheen, while gloss will have a high sheen and be the most durable. If durability is not a factor, the choice of sheen level can vary depending on personal taste; eggshell can also be used on walls and is very durable, with a beautiful sheen called a satin finish.
2. How will I use this space and how durable does the paint need to be? Will it be a high traffic area where kids will run through, muddy hands touching surfaces after play in the park?
If the space is a master or guest bedroom with little traffic (where the walls are not at risk of getting marks) then a matt finish works well. It has a flat, chalky look and it's also more modern. The reason this would not serve a high traffic area so well is that in some instances it can be a bit harder to clean, although there are some amazing brands out there that have created very durable matt finishes. If the area you'd like painted is in a kitchen or a hallway where surfaces need to be wiped clean often, then a more durable, wipeable finish would be the best choice. But it's important to note that wipeable will have a low sheen in most instances.
3. Is there humidity in the space and maybe a bit of condensation where the walls get wet?
In a space with humidity such as a shower room, a matt finish will show off water marks on your walls, so it's best to opt for wipeable or an eggshell / satin finish.
4. Will you need the space to be calming and cosy or are you looking for something bright that bounces the light around the room?
Generally, a matt finish absorbs light, and especially if paired with a darker colour, it creates a velvety look that can have an enveloping, and calming effect. A wipeable finish has a sheen to it and tends to reflect the light, helping a space appear brighter, injecting it visually with more energy.
These are the most basic questions to ask when starting to think about finishes. A specialist in a paint (like Paint the Town Green!) or DIY shop can always help when it comes to choosing from different types of matt or wipeable. If you want to delve a little deeper into it yourself, you'll see that each brand has their own various finishes that cater to every need you might have for a space.
You can choose Little Greene paints, for instance, in an Absolute Matt finish or an Intelligent Matt, amongst others. The Absolute Matt is a traditional matt finish, with a chalky look perfect for walls and ceilings, the brand's version of the 'matt' I was mentioning before. At Paint and Paper Library you will find this as Pure Flat Emulsion. The Intelligent Matt from Little Greene is a smart version of the 'wipeable' I introduced because it is still matt (so without a sheen), but also completely washable, making it a very popular choice amongst our clients as it blends the best of both worlds: a modern finish that is also practical. Paint and Paper Library's version would be the Architect's Matt.
To put it simply, while finishes have different names depending on the brand you chose, the basic principles are the same for all, and they are based on the surface you wish to paint, the durability it needs to have, and the level of sheen you prefer.
Traditionally oil finishes have been used and still are sometimes on woodwork, as they are hardwearing and can create a very smooth finish. The industry is, however, moving towards water-based paints due to their lack of odour and a less negative impact on the environment.
And if you want to make this fun, there's nothing stopping you from getting creative. Why not have a two-tone wall where the lower half is a gloss colour, while the top half is matt? Once you've understood the basics, go with your instinct, be bold and try something new!
If you'd like to explore what's possible in your space, please email me about colour consultancy and how I can help make the most of your home.