What colours are in for 2021?
What interiors colours are in for 2021? It's a tricky one and we see a lot of clients who feel really overwhelmed by choice. Do accent walls have potential? Is grey going out of style? Are white walls more than just minimal? One thing to explore when trying to dial into your choices is colour trends and what's most popular now. Trends change as quickly as the seasons but what I always say in my colour consultations is that the most important trend is your own taste. Nothing can beat what you love and what brings you joy daily. Saying that, there's something refreshing about bringing a touch of newness in your decoration, with small touches that don't affect your personal style but give a nod to the latest trends. And as we all know, colour trends can be hard to resist and as painters and decorators, we see it all.
If there is one thing that stands out, is that we're all over the grey walls that were so popular in the last few years. Brilliant white doesn't cut it anymore either. We want more - bolder and brighter. Colour is back, it's here to stay and the rules are that there are no rules. Or maybe, the rule is that the colour you choose must bring you joy.
So here are a few colour trends to have on your radar right now, and how you can incorporate them in your home.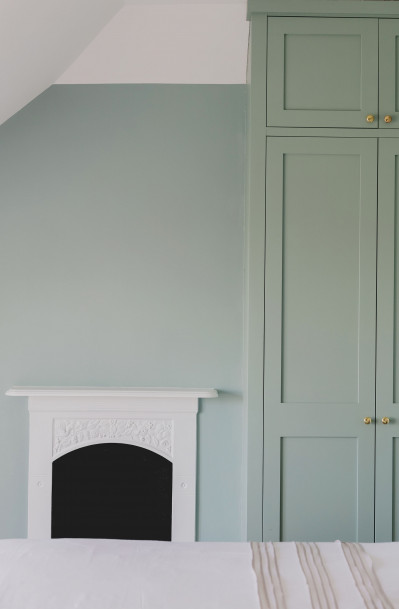 GREEN
I don't think we're over blues yet, however greens are slowly but surely making a home run for the top place on the colour trends chart. Maybe it's being stuck inside for most of 2020 that makes us want to surround ourselves with nature, and green is a reminder of a leafy outdoor space. It's calming and helps us focus and is therefore great for office spaces as well as living areas. Any shade works, from a crisp mint colour in a kitchen or a darker shade for a study. For a quick refresh in a boy's bedroom, we recently used Edward Bulmer's Invisible Green to paint only the bottom half of the walls, while the top half was Coat's beautiful off-white Low Salt.
There's no need to repaint your whole house. Sometimes just transforming one room makes all the difference. We redecorated a stunning study in Clapham with Farrow & Ball's Sap Green, providing a wonderful background for the owner's framed artworks and vintage red-bound books lining the walls either side of the fireplace. If repainting a whole room in colour is too much, how about just a feature wall? We used Coat's bold Ditch the Tie for a feature wall to act as a frame to the dining area in an open living space – this was picked up again around the whole room with the help of soft furnishings such as cushions and throws.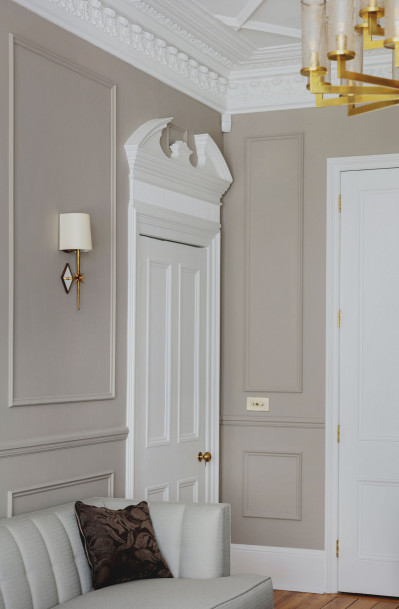 EARTH TONES
Earthy tones are your myriad shades of grey's replacement. And how welcome they are! Grey was cool… but cold. Maybe we've been longing for some warmth recently and that's why beautiful colours like Little Greene's Clay, Rolling Fog or Portland Stone are so in demand right now. We've used them a lot recently, be it to paint an en-suite bathroom in a Victorian home using Clay-Mid, or the walls of a sitting room in Rolling Fog, these colours keep a place light without making it feel sterile. What I like to say is that these colours make a house feel like a home.
If you want to start small, you could repaint your bathroom or dressing room in one of the darker shades of these colours and see how that makes you feel. Then slowly, as you gain confidence moving from grey to earth tones, follow the natural light in your house and go from the darker to the lighter tones. The effect is not only warm but very sophisticated too.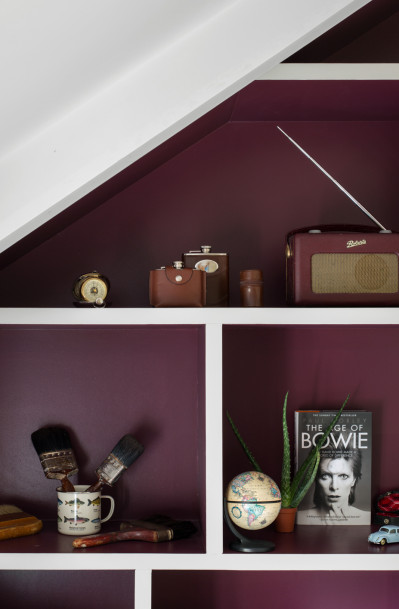 PLUMS & REDS
Plum, reds, mulberry colours are definitely picking up pace but they're not for everyone. Most of us won't paint a whole room in these colours, but you can make a statement by painting your front door a beautiful, deep red. Or what about a piece of furniture in a dark plum, to replace the charcoal grey we've all been into for the past seasons? If you think that's too bold, small decorating items like soft furnishings, a red motif in your berber rug, vases, or a row of vintage red covered books from the flea market can all do the trick. For an element of surprise, why don't you paint the inside of your bookcase a dark purple, or cover the shelves and back of a kitchen larder in a wallpaper with patterns in these colours.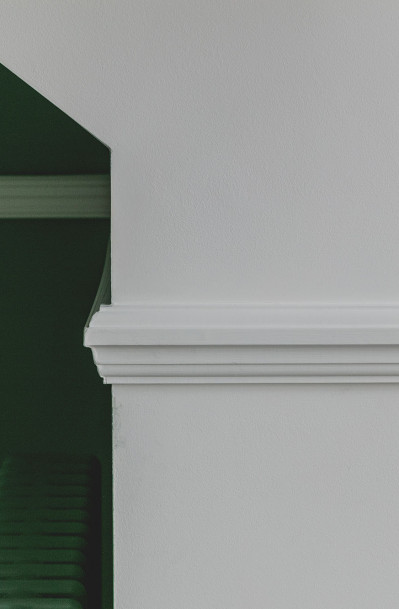 OFF-WHITE
Brilliant, optical white just won't do anymore. Here is where a lot of clients get confused. They always ask me what's the perfect shade of white to use... a touch of grey, a touch of yellow or blue? I can see how it can be confusing, but I think the many choices of off-whites are a great gift because it will allow you to perfectly compliment the colours you have in your room. Have a look around, do you have kitchen units painted in a deep warm blue that you love but would still like to refresh the room? How about repainting both walls and ceiling in the same warm off-white such as Paint and Paper Library's Minim. It's what we've recently done in a kitchen where the island was painted in Little Greene's Juniper Ash. Opting for a white refresh in a room is such a simple change but has a great visual impact.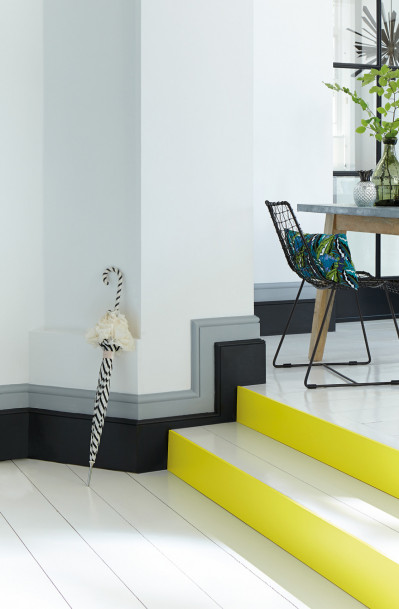 YELLOW
Yellow is here to stay, and it's one of my favourite colours for its ability to brighten up and bring joy in any space. I love the idea of painting the skirtings and door frame of a kitchen in Little Greene's gloriously uplifting Trumpet. How about giving a new look to your working from home space with one of the brand's yellow striped wallpapers such as 'Ombre Stripe', a 1950s pattern discovered in the archives of the Whitworth Art Gallery in Manchester. Elegance with a twist. Finally, if you want to stick to a more 'traditionally bold' option there's no denying the appeal of a yellow front door. No matter how many times we've seen it, you can play with so many different tones of yellow that I can't see us getting bored of it any time soon. It gives a welcoming feel that few other colours on a front exterior can achieve.
If you're feeling inspired and you want to give a certain area of your home a new look for the season, discover our new Refresh & Refine service, designed specifically for projects in areas of your home that need a bit of TLC. However big or small, we can help you bring new trends into your home through painting, wallpapering, joinery, electrics and more, without the hassle of a complete refurb.
Let us know your ideas, or get inspired by some of our case studies.