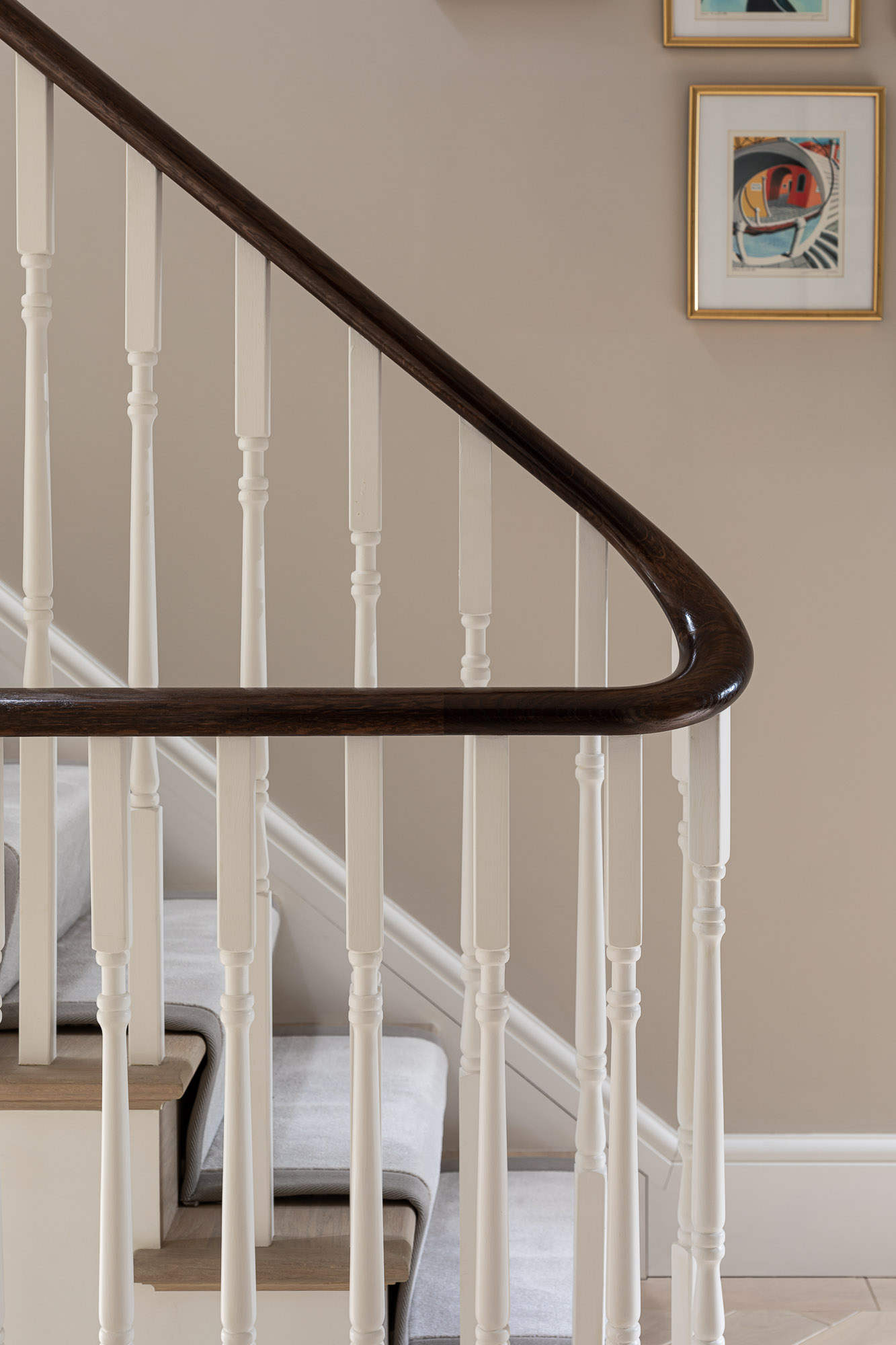 5 things you need to know when decorating
We asked our founder, Phil, for his top 5 tips on what to think about when decorating your home so that you can have a successful project that runs smoothly.
1. What else might I like to change?
On any building project, the painters and decorators are the last trade in the house before the clients move in (if they aren't living there already). Our job is to fill any holes and cracks, make everything smooth and tidy, and then paint.
So before you start painting your home, it's a good idea to think about any other minor changes you might like to make. Maybe the location of the sockets in a room has never quite worked for you (do you always have to lean behind the sofa to plug in your phone charger?!) or the central pendant light doesn't provide enough light for you to sit in your favourite reading chair.
It's important to consider that electricians have to put holes in the walls to run cables to new locations, so it's wise to get this done before you get your walls filled and painted.
Doing things in the right order is an essential aspect of being time and cost-efficient on any project.
With this in mind, we created our Refresh & Refine service. This helps you address these little changes and alterations you've always wanted to make. We manage all the different trades you may need so that things are done in the correct order - minimising disruption and cost.
2. What colours should I choose?
The possibilities are endless, the choices often overwhelming and the perceived consequences of getting it wrong utterly terrifying! Are you waking up in a cold sweat at the thought of spending all that money re-decorating only to finds you've picked a colour that went out of fashion without someone telling you?
Fear not, the basic principle is to keep it simple and follow your heart.
Think about what's going to be in the room once it's painted? Carpets, furniture, curtains? What do you particularly like in there, maybe a specific piece of art or even a cushion? Once you've established a starting point for a colour it then becomes easier to narrow things down and begin looking at paint charts.
The most common mistake to make is to start looking at colour charts and expect inspiration to jump out at you. It won't, you will very quickly become overwhelmed and it will ruin your weekend. It's like going Christmas shopping without any idea of what you're looking for. Thinking if you just wander around you'll find the perfect gift idea. Trust me, it doesn't work!
If it still seems too daunting a challenge and you'd like some reassurance that you're on the right track, we offer a fantastic colour consultancy service. We can either come to your house or carry out the consultation online and talk you through the process to create your dream palette. We'll your personal taste and guide you towards a colour scheme that you can be confident and excited about.
3. How do we prepare the house for decorating?
Different painters and decorators will have different ways of working, so it's best to start the conversation with whoever is doing your decorating work and ask what they would like you to do in preparation for their arrival.
We ask clients to remove any small, fragile, or valuable items form the area but not to worry about larger pieces of furniture. The larger items we can move around as necessary, usually into the middle of the room where we then properly protect them.
4. What should we expect during the decorating process?
You've decided on what you'd like to have done - the rooms to be painted, a couple of sockets you'd like moved – and you've chosen your colours and removed your picture frames and other personal items from the space; but what happens next?
The expression "you can't make an omelette without breaking some eggs" is very appropriate for any home improvements, and decorating is no exception. It is a messy process, cracks have to be raked out, holes filled, and filler and all surfaces generally rubbed down in preparation for painting. All of this creates dust and a degree of mess. Even if your contractor is using a dust-free sander (like us) you should expect a degree of air-borne dust during the process.
A good decorator will have prepared you and your property for this and suitable protection will have been put in place to protect surfaces and contain the mess as much as possible.
If you are having several rooms and areas decorated and will be living at the property, it is advisable to have a conversation with your contractor about the order things will be done in and timeframes.
Where everyone will sleep, eat, watch TV etc at the various stages of the project should be discussed and clarified at the start of the project to ensure everything runs smoothly. On most projects, we have a pre-start meeting with the client and one of our supervisors to talk through these logistical aspects and ensure everyone is happy with the plan.
5. Am I communicating with my team?
Good communication is the key to success, happiness and harmony. On the flip side, poor communication is often the root of most problems, confusion and unpleasant surprises.
Be open with your contractor about any concerns you may have or any aspects of the property that are particularly important to you.
If there's a specific date you need certain rooms finished by, make it known at the start so you can work together to achieve that. A good contractor will look for this information - we ask specific questions at our pre-start meetings to understand clients' priorities - but if they don't ask you may need to initiate the conversation. The more they know, the more they can understand and then be able to work with you to achieve the outcomes you want.
We'd love to hear from you about your next decorating project. Get in touch via the contact form, email or telephone.